News
2017/03/08
Booth at the 2nd M-Tech Nagoya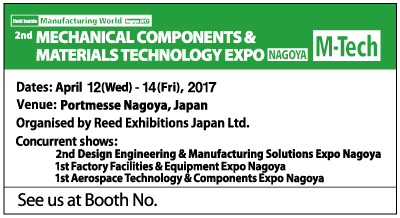 Nunobiki Manufacturing will exhibit its products at the 2nd Technical Components & Materials Technology Expo Nagoya to be held at Portmesse Nagoya, Japan between Wednesday, April 12 and Friday, April 14, 2017.
2nd Manufacturing World Nagoya is a purely business to business trade show in Nagoya, specialising in the products, technologies and solution for manufacturing industry. All kinds of mechanical parts/subcontracting services (fasteners, springs, tube components, etc.), IT services (CAD, CAM, production management system, etc.), products/equipment for factory maintenance (factory facilities/equipment, energy saving products, etc.) and technologies/components for aerospace manufacturing (ultra-precision materials processing, mechanical parts, etc.) are exhibited under one roof. It is held in Nagoya which is one of the central areas of the Japanese manufacturing industry.
Nunobiki Manufacturing will display perforated screens and offer fabrication to suit your needs. Visit our booth and talk to our staff.
Duration: April 12 (Wed.)–14 (Fri.), 2017; 10 a.m.–6 p.m. (Until 5 p.m.on Fri. 24th)
Venue: The third pavilion, Portmesse Nagoya
Booth No. 4-63
We look forward to seeing everyone.
2nd M-Tech Nagoya website
---